By Wyatt Earp | July 30, 2009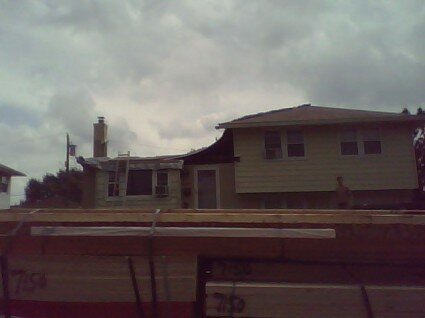 Well, the construction team is here, and as you can see by the photo, they are kicking shingles and taking names. Our roof is off – at least the part of the roof that will be raised – and they guys spent yesterday removing the beams. Today, they will be moving inside to put up ceiling supports, so the first floor can support the new weight above.
There was a lumber delivery at the end of the day – you can see that in the photo, too – and our driveway is being taken up by a massive dumpster. Kyle and Erik want to play inside of it, and the wife joked that they could fill it with water and turn it into a swimming pool.
The boys thought she was serious.
The addition is expected to be completed in a few months, but so far, everything is going well. The kids are excited about getting their very own bedrooms, and even more excited that they can watch SpongeBob again. The DIRECTV satellite dish had to come down on Tuesday, but the techs came out yesterday to reconnect everything. The dish is on a pole in the corner of the backyard now, and it is cemented into the ground. That was the best choice, since the renovations call for a new chimney and a new roof for the entire house. No sense is putting the dish on the other side of the roof for it to be taken down again.
The team put a tarp on the open roof, which is good. Unfortunately, it rained all afternoon and evening yesterday, and we have a few minor leaks and a partially water-damaged living room ceiling. That's not so good. Thankfully, they said they'll fix that, too.
So, now you're all caught up. I'll post relevant updates as they occur.
Topics: All About Wyatt | 11 Comments »