By Wyatt Earp | July 30, 2009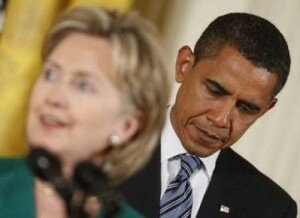 Well, well, well, look who's back. And it only took her six months. Frankly, I'm surprised she held her tongue this long.
According to this story, Hillary Clinton's political team is ready to go, and that means bad news for Barack Obama. With the "O" Face's popularity dropping faster than Helen Thomas' breasts, President Obama could be very vulnerable to a Republican attack.
Or one from his own Cabinet.
Hillary Clinton says running for office isn't on her "radar," but she still has an eight-person political team and sports two overflowing campaign war chests.

Her team transformed the former Democratic White House contender's massive campaign debts into a $3 million mountain of political cash, according to federal fund-raising records through the end of June.
And Barack Obama helped her recoup some of those losses. He may regret that decision as soon as he reads this story.
Clinton's failed presidential bid is now $1 million in the black, and her old Senate campaign committee has $2.1 million in the bank, much of it transferred in from the presidential account.

The former First Lady paid eight staffers nearly $100,000 in the second quarter of the year to tend to the remains of her political empire. (H/T – The New York Daily News)
Now, make no mistake. I don't like Hillary Clinton. I think she would be terrible for America. However, at this point, she almost seems like Teddy Roosevelt compared to "The One." After Cap and Trade, ObamaCare, and whatever else Obama has up his sleeve, I just want a president who can balance the country's checkbook.
I would prefer someone with business experience (like Mitt Romney), but Hillary may do in a pinch. Either way, Obama is about to have a few sleepless nights.
Topics: Politics | 15 Comments »