By Wyatt Earp | November 27, 2010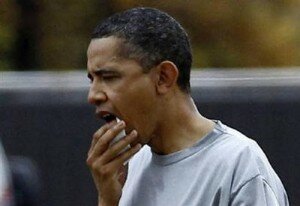 Okay, he wasn't attacked, thank God, but the media reports make it seem like he was injured while fighting in Afghanistan. President Boo-Boo allegedly took an elbow to the face while playing basketball and received twelve stitches. I say "allegedly" because he would have to be hit pretty hard to suffer such a serious wound. Elbows get thrown in the NBA all the time by men bigger than the ones Obama is playing with, and these types of wounds are rare there.
I'm not saying the President is lying, .
President Barack Obama needed 12 stitches in his upper lip after taking an errant elbow during a pickup basketball game Friday morning with family and friends visiting for Thanksgiving, the White House said.

The White House did not initially name the person who caused the injury, but identified him later Friday as Rey Decerega, director of programs for the Congressional Hispanic Caucus Institute.
Decerega is obviously a racist, but that's not what's bothering me. What's bothering me is the photo. This guy is the President of the United States, the most powerful position in the world, and he is sulking like a puss-aah. For God's sake, man up already! If you want to nurse your wounds, do it away from the cameras, because photos like this are solidifying the wuss image you're portraying to our enemies.
Topics: Evil = Funny | 22 Comments »