By Wyatt Earp | November 28, 2010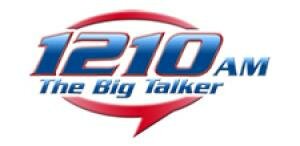 Of course, that's only what I'm doing. Usually, I think boycotts are less than ineffective. Most times, they don't work, and don't affect the person or business being boycotted one iota. That being said, I'm doing this one on principle. (Who knew I even had principles?) I will never, ever, listen to "The Big Talker 1210-AM" again. I gave them a pass when that scumbag Michael Smerconish switched ideologies to boost his national appeal. I haven't listened to that two-faced piece of detritus since, but I still enjoyed 1210′s other hosts.
However, starting on January 3, 2011, WPHT is going "full moderate," by dumping Glenn Beck and Sean Hannity to put in some assclown I never heard of and Dom Giordano, who has to literally beg people to call in to his current show. I'm done with them, but if you live in the Philadelphia area, feel free to do what you will:
The Big Talker 1210 AM announced today an enhanced lineup of personality based programs which will begin on Monday, January 3, 2011. Leading off the day will be one of America's up and coming talk show hosts, Chris Stigall who joins the station from KCMO Talk Radio 710 in Kansas City where he has hosted morning drive since 2006. From 5:30-9:00AM Stigall will discuss local and national policy, the economy, the biggest news stories and issues that affect all Philadelphians, coupled with interviews of the day's news and decision makers.
Who the frak is Chris Stigall, and why would I care about his idiotic views? The guy doesn't live here, isn't from here, and probably cannot pronounce Schuylkill. And WPHT thinks the fact that he "contributes" at CNN is a selling point? Get lost, toolbox.
Speaking of toolboxes . . .
Stigall's hiring is the result of Michael Smerconish's decision to discontinue his morning program so he can focus on his popular nationally syndicated midday program. He will continue to be heard on WPHT weekdays from 3:00-700PM with the first hour of the show dedicated exclusively to the Philadelphia audience. Smerconish will debut in his new time period on Monday, January 17, 2011.
Now read this quote in full and tell me this guy is not an a-hole. I dare you.
Smerconish added, "First and foremost, I wanted to remain on our flagship station WPHT, but to put forth the best program I need to refocus my commitments. This move allows me to continue with my other radio and television opportunities, as well as my books and newspaper columns, while at the same time maintaining contact with my loyal fans in Philadelphia who have been with me since the beginning."
Allow me to translate from the original douchebagese: "I'm throwing WPHT a bone because they made me famous, but to be honest, I wouldn't cross the street to spit on the average Philadelphian. Of course, I am not a Philadelphian; I am much better than them, because I'm from Doylestown. I appreciate all of the conservative support over the years, but since I'm a whore, I sold myself out to the highest bidder, switched parties, and embraced liberalism. Oh, buy my book!"
The only personality to survive the purge is Rush Limbaugh, because even WPHT isn't dumb enough to release its ratings meal ticket.
Captain America sent me an e-mail about this yesterday, and my jaw hit the floor. I loved listening to Glenn Beck and Rush, even though Beck goes overboard way too often. The bottom line is that the two are very entertaining, which I thought was the point of radio. Guess not. So, after 10+ years of loyal listening, I am boycotting 1210AM forever. I already changed the pre-set in my car from 1210 to 770WABC (New York), where I can listen to Rush and Hannity if I feel the need. As for Beck, I'll look for him online.
But hey, thanks, WPHT! Let me know how that new Air America-esque "moderate" radio format works out for ya.
Topics: People I Hate, Philly | 35 Comments »