By Wyatt Earp | December 17, 2010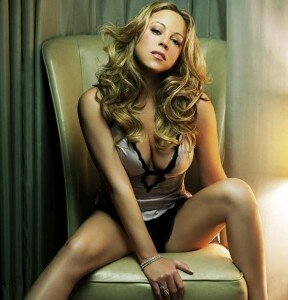 How desperate am I to post a pic of a babe that I am resorting to
Okay, in fairness, some of Carey's music is listenable – especially her "All I Want For Christmas" remake. And her husband, Nick Cannon, seems like a pretty nice, non-thuggish guy. I mean, I hate the man because he gets to tap Mariah Carey every night, but to the victor go the spoils.
Rat fink.
Mariah Carey is going to be a mom twice over. Nick Cannon announced on his radio show Thursday that his wife is expecting twins.

Said Cannon on New York's 92.3 station: "I haven't even told my wife I doing this so I'm probably gonna get yelled at for not getting permission. … We are having twins!"
Good luck with that. As a father of four, my misery loves company.
Topics: Babes | 8 Comments »