By Wyatt Earp | December 16, 2010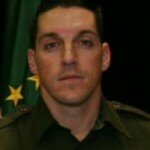 Apparently, the shooters were Mexican smugglers. .
When will the people of this country realize that every illegal immigrant is a criminal? Their very first decision upon entering this country was to break our laws. Why should they get any consideration at all? But hey, let's just push the DREAM Act right through.
A U.S. Border Patrol agent was shot dead by suspected smugglers close to the Mexico border in southern Arizona and four suspects have been arrested, authorities said on Wednesday.

Agent Brian A. Terry, 40, was shot dead after he confronted several suspects while on duty in a mountainous area a few miles northwest of the border city of Nogales late on Tuesday night, local and federal police said.

Arizona Governor Jan Brewer ordered state flags flown at half staff in tribute to Terry, a Marine Corps veteran from Detroit, Michigan, who served in the Border Patrol's Tucson sector.
I wonder how many agents will have to die before Obama, Holder, and Napolitano take the necessary action needed to seal the border? Godspeed, Agent Terry. Thank you for your service.
(Major thanks to Enano Siniestro for posting the updates in the comments.)
Topics: Illegal Immigration, The Job | 19 Comments »