By Wyatt Earp | November 28, 2010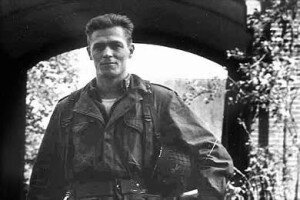 I saw this story over at Ace and needed to post it a.s.a.p. For those not in the know, Major Dick Winters is my personal idol. I wanted nothing more than to meet him in person. Now, the Pennsylvania native of Band of Brothers fame is ill.
A Pennsylvania boy is now trying to raise funds for a statue of Winters slated to appear in Normandy. We can help.
An 11-year-old from Lebanon County, he has long been fascinated by World War II and one old soldier in particular — Dick Winters, the Easy Company commander made famous by the HBO mini-series "Band of Brothers."

Mr. Winters, a Lancaster native who lives in Hershey, is 92 and has Parkinson's disease.

But a statue of him is going up in France, and Jordan has taken it upon himself to raise money for it by selling $1 rubber wristbands in the tradition of Lance Armstrong's yellow "Live Strong" bracelets. These wristbands are olive green, the color of U.S. Army uniforms, and say "Hang Tough," which is what Mr. Winters told his men in combat in Europe. In later years, that phrase became his motto.

Jordan has raised $21,000 since he started selling bands in May and says his goal is $100,000. The monument in Normandy is expected to cost about twice that. "We need to thank these heroes before it's too late," Jordan said.
Indeed. If you're interested, you can get your wrist band here. (I bought ten of them yesterday.) If you can't get a band, please mention this story on your blog and to your friends/family. Dick Winters deserves no less.
Topics: Heroes, The Troops | 3 Comments »