By Wyatt Earp | July 29, 2009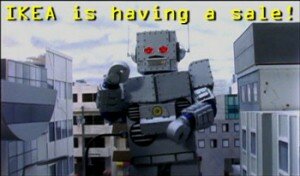 Well, being a detective, I figure the motive has to be one of the following:
First, the robot revolted after being exposed to weeks and weeks of ABBA poisoning. Second, the automaton always had a thing for Swedish actress Lena Olin, and felt it was time to make his move.
A Swedish company has been fined 25,000 kronor ($3,000) after a malfunctioning robot attacked and almost killed one of its workers at a factory north of Stockholm.

Public prosecutor Leif Johansson mulled pressing charges against the firm but eventually opted to settle for a fine.

"I've never heard of a robot attacking somebody like this," he told news agency TT.
Um, excuse me. Terminators? Cylons?? Al Gore??? Any of these things ring a bell, Mr. Johansson?
The incident took place in June 2007 at a factory in Bålsta, north of Stockholm, when the industrial worker was trying to carry out maintenance on a defective machine generally used to lift heavy rocks. Thinking he had cut off the power supply, the man approached the robot with no sense of trepidation.

But the robot suddenly came to life and grabbed a tight hold of the victim's head. The man succeeded in defending himself but not before suffering serious injuries. (H/T – The Local)
How exactly does a man "defend himself" from a robot attack? It might be nice to publish that little safety nugget for the rest of us.
Besides, you never know when the blenders and toasters will start their uprising.
Topics: Evil = Funny | 6 Comments »