By Wyatt Earp | December 31, 2008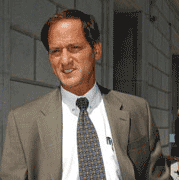 Sweet Jesus, why can't this man just go away? Heh.
You may remember Michael Newdow as the toolbox who wants to force his atheism on the rest of the country. He fought to have the phrase "under God" removed from The Pledge of Allegiance, declared that he wanted "In God We Trust" removed from all U.S. currency, and is now suing to have prayer removed from Barack Obama's inauguration.
It is also rumored that Newdow wants to have the phrase "Dark Lord of the Sith" removed from Darth Vader's title.
The head of an atheist group that has filed a lawsuit against prayer at Barack Obama's presidential inauguration says the government is picking a winner between "believers" and "those who don't believe" and subjecting atheists and agnostics to someone else's religious beliefs.

Dan Barker, co-president of the Freedom From Religion Foundation, has joined with Michael Newdow, who fought to have the words "under God" removed from the Pledge of Allegiance, in a federal lawsuit seeking to enjoin the Presidential Inaugural Committee from sponsoring prayers at the official inauguration.

The 34-page legal complaint similarly seeks to enjoin Supreme Court Chief Justice John Roberts, Jr., from adding the phrase "So help me God" to the presidential oath of office.

"We're hoping to stop prayer and religious rituals at governmental functions, especially at the inauguration," Barker told FOX News Radio. (H/T – FOXNews)
Good God, this guy is a bothersome pain in the ass. You're a lawyer, Michael, and while that makes you a bottom feeder, it also makes you mildly intelligent. Intelligent enough to know that the United States of America was founded upon Judeo-Christian ideals. That's right, Junior, George Washington, Thomas Jefferson, and most of the Founding Fathers believed in God, and they prayed every day.
But, being a lawyer, you probably believe you know better than them, right?
I hate rehashing this argument again and again, but I fear I must. The phrase "separation of Church and State" is not in the Constitution. It is an idea put forth by the Founders that was supposed to protect America from becoming a theocracy. America is not a theocracy, Michael. It never has been, and it never will be. Rest easy.
Making a claim that these phrases and a few prayers are unconstitutional is lunacy. It is also a red herring, used primarily to keep yourself in the spotlight. Frankly, it nauseates me. However, if you are truly "offended" at hearing a prayer, by all means, change the channel. If you are truly "harmed" by reading a few phrases, feel free to find a more liberal place to live. (I hear Canada is wonderful this time of year.)
What you shouldn't do is force your idiotic opinions on the rest of America – 76.5 – 78.5% of which identify themselves as "Christian." We tolerate your "offensive" shenanigans; it wouldn't kill you to tolerate ours.
(Momster has her thoughts on the subject HERE.)
Topics: People I Hate | 16 Comments »