By Wyatt Earp | December 31, 2008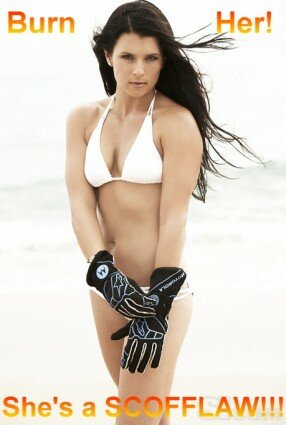 Um, she's a frakkin' race car driver! Do you think that maybe she's gonna have a lead foot?
Danica Patrick is a lean, mean, speeding machine.

The Indy race-car driver was reportedly busted this month in Arizona for speeding. According to TMZ.com, she was pulled over for driving 19 miles over the speed limit – 54 mph in a 35 mph zone.

The star reportedly received a citation and will appear in court in January, TMZ said. (H/T – FOXNews)
With all due respect to my brothers and sisters in Arizona law enforcement, what the Hell are you guys doing? Danica shouldn't get special treatment because she's famous, but honestly – 19 miles per hour over the speed limit for an Indy driver is an exercise in restraint!
Now stop crowing about your celebrity pinch and lock up some of the thousands of Mexicans that traipse through your state every day. Thank you.
Topics: Babes, Racing | 8 Comments »