By Wyatt Earp | December 31, 2008
Note to President Bush: Cut off diplomatic relations with Australia right now!
CANBERRA – Sun-loving Australians reacted angrily on Tuesday to a mid-summer bid by a conservative Christian lawmaker to ban topless sunbathing on beaches in the country's most populous state.
Sons of bitches!
Christian lawmaker and veteran morals campaigner Reverend Fred Nile won backing from key politicians in New South Wales state, counting Sydney and its famed ocean beaches, to tighten existing laws covering nude sunbathing.

"The law should be clear. It must say exposure of women's breasts on beaches will be prohibited," Nile said.
Would it be wrong of me to wish the West Nile Virus on Reverend Nile? Just askin'.
Centre-left state government lawmaker Paul Gibson told the Daily Telegraph newspaper that families at the beach during the summer holidays did not want topless women.
Well, that's a family I don't want to be a part of. Heh.
But scores of callers to radio talkback stations complained about the plan and Leanne Peters from the ACT Nudist Club in the capital Canberra said Australia would look like a "haven for prudes" in the unlikely event that laws passed parliament. (H/T – )
Haven for prudes? I thought that was Utah? Kidding, kidding! Like anyone wants to pass up the opportunity to see Aussie native Holly Valance sans clothes?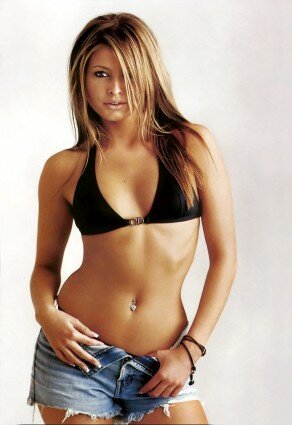 I'd like to see her strip on the barbie!
Topics: Babes | 6 Comments »