By Wyatt Earp | December 30, 2008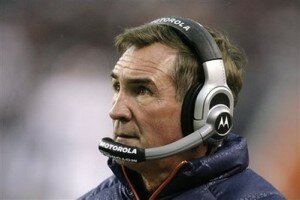 Do you hear that, Philadelphia Eagles? The Jets are already talking to Bill Cowher, so it's time to kick that fat bastard Andy Reid to the curb and pick up a real coach!
Of course, they won't do that, but at least I can say "I told you so," after Shanny signs with the Browns.
DENVER – Mike Shanahan became the latest and most stunning victim of the NFL coaching purge, fired Tuesday by the Denver Broncos after a late-season collapse knocked the team out of the playoffs for the third straight year. Shanahan joined Eric Mangini, Rod Marinelli and Romeo Crennel on the unemployment line after going 24-24 over the last three seasons, including three straight losses in 2008 that turned a three-game division lead to an 8-8 record.

Despite that, and the 52-21 loss to the Chargers that ended Denver's season Sunday, this was a shocker: The ouster of a 14-year coaching veteran who won two Super Bowl titles for Denver and was considered my many in this town to be a lifer.

"After giving this careful consideration, I have concluded that a change in our football operations is in the best interests of the Denver Broncos," owner Pat Bowlen said.

Shanahan's record was 146-89, but the Broncos remained stuck at only one postseason victory since John Elway retired in 1999 after Denver's second championship. ()
Regular readers of SYLG know that I am a huge Broncos fan. I have been since 1978, and I think John Elway is the greatest player in NFL history. Having said that, I am not a Stepford, and I realize that the Broncos' collapse was of Greg Norman proportions. However, Denver had a slew of injuries to their top players, and their defense was suspect for the entire season. While I place some blame on Shanahan, I think it was a total team effort to the downward spiral.
But firing Mike Shanahan? That's just plain idiotic. The man is a genius, and one terrible collapse doesn't change that fact. The article mentions the one playoff victory in the post-Elway era, but Broncos fans know why: We had to play the Indianapolis Colts many of those times. It's difficult to beat Peyton Manning at the dome. End of story.
Now the Broncos are looking for a head coach. Personally, I want Cowher. I don't think we'll get him, but it's nice to dream.
As for Shanahan, I think he'll have his choice of teams if he decides to continue coaching. It's a shame one of those teams won't be the Eagles. Thanks, Mike. It's been one helluva ride!
Topics: Denver Broncos | 11 Comments »