By Wyatt Earp | March 29, 2010
Add that to the list of "Countries I'll Never Visit."
Iceland has passed a law to shut down all strip clubs, making it illegal for any business to profit from the nudity of its employees.

[P]olitician Kolbrun Halldorsdottir, who first proposed the law, said on Wednesday, "It is not acceptable that women, or people in general, are a product to be sold." Iceland began hammering that point home last year when it passed a law effectively banning prostitution by criminalizing the purchase of sex; the strip club law is simply the next step.

A big impetus for Iceland's sex work laws are allegedly to prevent the exploitation of foreign women who come there to work as strippers or other sex workers. Icelandic police say 100 foreign women travel to the country annually to work in strip clubs; it is unclear how many of those women are trafficked.
Okay, so Icelanders seem like killjoys now, but look at it from their perspective.
Would you want to see Bjork swinging from a stripper pole?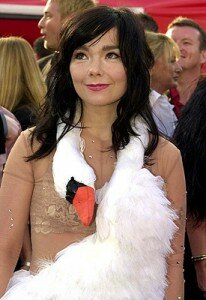 I think not.
Topics: Snarkasm | 13 Comments »