By Wyatt Earp | March 29, 2010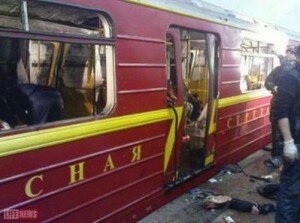 The attacks occurred today in Moscow's Lubyanka subway station, which is near the Kremlin and just below the offices of the Federal Security Service (FSB). The FSB is the organization formerly known as the KGB. The attack is pretty ballsy, and it sends a pretty clear message: These animals can successfully launch a terror attack right under the nose of the FSB Headquarters.
Russian investigators combing two subway stations attacked by female suicide bombers think Chechen rebels may have been behind the rush-hour strike that killed dozens of people.

"Our preliminary assessment is that this act of terror was committed by a terrorist group from the North Caucasus region," said Alexander Bortnikov of the Federal Security Service, in reference to the investigation at one of the blast sites.

"We consider this the most likely scenario, based on investigations conducted at the site of the blast," Bortnikov said.

Two female suicide bombers set off explosions that rocked the two subway stations in central Moscow during rush hour Monday morning, killing at least 38 people and wounded more than 60 others, officials said.
Forgive me if this sounds callous, but this is the best thing to happen to Russia in a long time. First, the attack may wake up Vladimir Putin and Dmitry Medvedev from their long terror slumber, and may also give them pause the next time they meet with a terrorist "ally" like Iran. Second, unless the Russians have completely lost their nerve, the retribution for this attack will be carried out with extreme prejudice. Putin is a former KGB agent, and he doesn't frak around. Expect swift and brutal punishment in the Chechen region, which may send a message to terror cells around the world.
Topics: War On Terror | 9 Comments »