By Wyatt Earp | November 29, 2008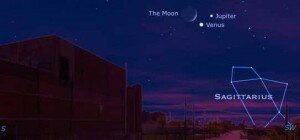 The kids and I got to see a kickass show tonight after dinner – courtesy of my mother-in-law. Venus and Jupiter were clearly visible in the sky, and brighter than any other stars. Apparently, folks will be able to see the planets rather easily for the next day or two:
The planets Venus and Jupiter – the two brightest starlike lights in the sky – beam in the southwest at dusk and early evening. They will be drawing closer together as this month passes, coming closest on November 30 and December 1, when a slim crescent moon will also be nearby. For the best view of these blazing beauties, find an unobstructed horizon in the general direction of sunset. Venus and Jupiter will be to the left of the sunset point. They will appear rather low in the sky, setting roughly 2.5 and 3.5 hours after the sun, respectively.

After the sun and moon, Venus and Jupiter rank as the third and fourth brightest heavenly bodies, respectively. Among starlike objects, they rank first and second. You really can't mistake them for anything else! They appear bright and beautiful because the cloud cover on these worlds efficiently reflects sunlight. Venus reflects 65% of the sunlight that hits its surface and Jupiter reflects 52%. In contrast, our rocky moon reflects 12% of the incoming sunlight whereas the rocky planet Mars reflects 15%. (H/T – Earth & Sky Tonight)
If you get the chance, check it out. It is definitely worth it.
Topics: Coolness! | 6 Comments »