By Wyatt Earp | October 31, 2008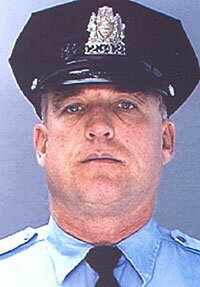 One year ago today, we lost a friend.
On October 31, 2007, at approximately 10:15am, Officer Chuck Cassidy walked into a robbery in progress. The incident occurred at the Dunkin' Donuts at 6600 N. Broad Street. As Chuck walked in the door, a piece of human filth, John "Jordan" Lewis surprised him, and shot Chuck in the head at nearly point-blank range. Chuck went down, and Lewis fled the scene. Chuck died from his injuries the next day – November 1 – at 9:40am. Lewis was captured (alive, unfortunately) in Miami on November 6th.
There is still nary a day that goes by that I don't think about Chuck. He worked in my building and was a good friend to all of us. He was friendly, funny, and always there for those who needed him, but most importantly, he loved this job. A lot of cops start to slow down when they pass their 20-year mark, but not Chuck. He still answered radio calls, still handled jobs, and still made arrests. He was the consummate professional. We all miss him very much.
For me, Halloween will never be the same.
Topics: Cassidy Assassination | 10 Comments »