By Wyatt Earp | November 19, 2010 1:00 pm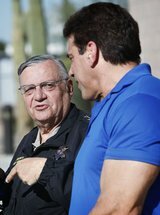 Sheriff Joe Arpaio is doing a truly thankless job. The Arizona sheriff is fighting the good fight against illegal immigration, and he is getting stonewalled by our our federal government. It would seem that the toads in Washington are more concerned with the illegals than the officers enforcing the laws. Go figure, huh?
The situation has gotten so bad in Arizona that Arpaio has enlisted help from celebrities to take the fight to the criminals.
Some of the names may surprise you.
"America's toughest sheriff," Phoenix's Joe Arpaio, is creating an armed "Immigration Posse" to combat illegal immigration, and Hollywood actors Steven Seagal and Lou Ferrigno, along with Dick Tracy and Wyatt Earp, have signed up.

Fighting Justice Department accusations that his office discriminated against illegal immigrants during arrests, Sheriff Arpaio said the civilian posse of more than 50 members gives citizens a chance to fight the problem inundating their border state. (H/T – Code Monkey)
It's good to know Obama and Holder have our backs. Read the rest of this entry »