By Wyatt Earp | November 19, 2010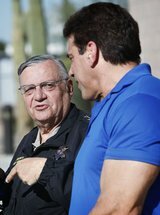 Sheriff Joe Arpaio is doing a truly thankless job. The Arizona sheriff is fighting the good fight against illegal immigration, and he is getting stonewalled by our our federal government. It would seem that the toads in Washington are more concerned with the illegals than the officers enforcing the laws. Go figure, huh?
The situation has gotten so bad in Arizona that Arpaio has enlisted help from celebrities to take the fight to the criminals.
Some of the names may surprise you.
"America's toughest sheriff," Phoenix's Joe Arpaio, is creating an armed "Immigration Posse" to combat illegal immigration, and Hollywood actors Steven Seagal and Lou Ferrigno, along with Dick Tracy and Wyatt Earp, have signed up.

Fighting Justice Department accusations that his office discriminated against illegal immigrants during arrests, Sheriff Arpaio said the civilian posse of more than 50 members gives citizens a chance to fight the problem inundating their border state. (H/T – Code Monkey)
It's good to know Obama and Holder have our backs.
"Law enforcement budgets are being cut and agencies are losing personnel and yet the battle to stop illegal immigration must continue," said the sheriff, who heads the Maricopa County Sheriff's Office. "Arizona is the busiest port of entry for people being smuggled in from Mexico, Latin and South America. So asking for the public's help in this endeavor makes sense, especially given the success the posses have experienced over the years."

The sheriff also said Dick Tracy, a retired Chicago police official who now lives in Arizona, has joined the posse, along with Wyatt Earp, a Phoenix resident whose uncle was the Old West lawman of the same name.
Feel free to laugh, but they need all the help than can get down there. And no, the Wyatt Earp here is not me, but if I lived closer I would have gladly signed up.
Topics: Illegal Immigration | 13 Comments »