By Wyatt Earp | November 6, 2010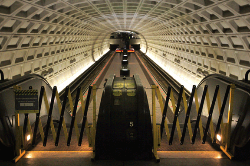 As if there weren't enough problems in Washington, D.C., the escalators of the D.C. Metro have been going crazy this week. Apparently, the things are built with a braking system, but like most things inside the Beltway, they don't work.
The result? Dozens of passengers have been sent flying, and ambulance chasers have been manning the stations 24/7. Even Michael Bay has scoped out the scene for his new film, "Escalator to Hell."
Two escalator brake failures in five days sent passengers flying down to the bottom — and landed four in the hospital, putting the spotlight on Metro's deteriorating escalator performance.

Both brake failures happened when the escalators were packed. The first occurred after Saturday's rally on the National Mall when a L'Enfant Plaza station escalator went into free fall; the second came on Wednesday night at Gallery Place-Chinatown, where witnesses said a station escalator suddenly sped up on passengers who were leaving the Washington Capitals game.
Oh well, it could have been worse . . .
Topics: Evil = Funny, Video | 10 Comments »