By Wyatt Earp | November 7, 2010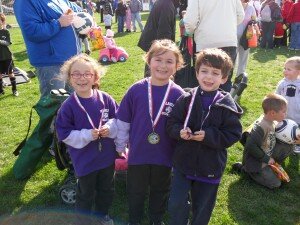 Sorry for the occasional disappearances, but it has been a busy two weeks around here. I'm playing hockey again, my work life has been "adjusted" (and maybe not for the better), soccer is in full season, and the boys are adjusting to their new classes. Erik just finished his best soccer season ever. His team won every game he played – he missed two because of the NASCAR race and a family wedding – and he scored at least one goal in every game. The boy really came out of his shell this year, and has become a very good player.
The photo above was taken after his team's last game. The girl in the center is Sabrina, who with Kyle, scored the most goals this season. (Sabrina's twin fraternal sister is on the left.) Erik and Sabrina played well together, setting each other up for scoring chances, and they always congratulated each other when the other did something great. They had a lot of fun, and it showed.
Erik was chosen to play in the Turkey Bowl this year, the annual Thanksgiving weekend tournament. Hopefully, it will lead to a place on a traveling team.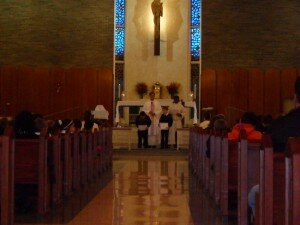 Kyle, on the other hand, has been excelling in school. He was recently honored as Peacemaker of the Month at his school for "Responsibility." He has won the award three years in a row now, and that makes us very proud. Unlike previous years, grades 4 and up only pick one person per class each month, and when we arrived in church on Friday, we had to smile – Kyle's best friend Steven won the award for the other class.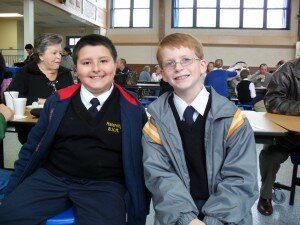 I turned to Steven's parents and said, "It figures, doesn't it?" After the mass, the winners were able to go to the cafeteria for a small reception. On the way home, the missus and I reveled in the fact that Kyle won the award three times and Erik won it once. Despite the fact that they can be monsters at home sometimes, they are very well-behaved in school. For us, that's good enough.
Topics: The Boys | 7 Comments »