By Wyatt Earp | November 7, 2010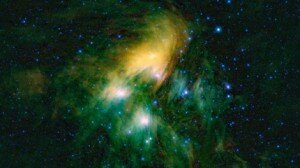 If you like in the Great White North (Racissssst!) you may have noticed something different when you look up into the night sky. Great balls of fire have been reported in the northern U.S. and Canada, and some scientists are perplexed by the cause.
No worries, though: NASA is on the case.
Great balls of fire have been reported swooping over Eastern Canada and several U.S. states. Even NASA's on the case.

There are different theories about what was behind the sighting of those fireballs. A NASA spacecraft got a closer look at one of the possible sources today. The spacecraft flew past Hartley 2, taking closeup pictures after the comet made one of its passes by Earth this week.
Personally, I think it's Galactus, and we are about to meet our doom. But I'll open the floor to your thoughts.
Topics: Coolness! | 11 Comments »