By Wyatt Earp | November 24, 2010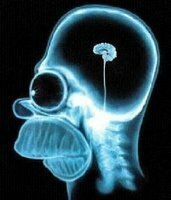 As I mentioned last week, I told my doctor about a lump on the back of my head. It was about the size of a Super Ball, and was painful when anything pressed against it. The doctor scheduled me for a CT Scan a few weeks ago, and I received the results today.
The doc checked the films and immediately said that it is not a cyst. That was disconcerting because a cyst would have been the easiest, least dangerous option. Apparently the lump is from my lymph node. The doctor said that I have three options available to me:
1. Get the lump cut out.
2. Have a needle biopsy of the lump to see if it's cancerous.
3. Do nothing for a few months, and monitor any changes to size, etc.
Not really a great option among them, in my book, so I asked the doc his opinion. Sadly, he said he couldn't, because the scumbag malpractice lawyers would jump on him if he made a recommendation that would later be considered "wrong." (So you know, PA is one of the worst states for doctors and malpractice lawsuits.) I wouldn't sue the doc if his recommendation turned out to be incorrect, but I understand his position. He did tell me – off the record – what he would do, but made it clear that it had to be my decision.
The doc said that if it were his son, he would wait. From what he saw on the CT Scan combined with my symptoms, he said he would bet his paycheck it's not cancer. He also implied that he didn't feel comfortable with surgery unless it was absolutely necessary, and even the biopsy had risks. I trust him, so I went with waiting. The doc said that if there are any changes – however slight – I should call and he'll take me in a.s.a.p.
So, the good news is that I know what it is (lymph nodes), but the bad news is that I still don't know with 100% surety if it's cancer. What I do know for sure, is that I trust this doc – he's one of the best in the area – and that's good enough for me.
Topics: All About Wyatt | 38 Comments »