By Wyatt Earp | November 24, 2010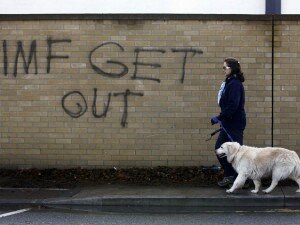 The Irish have come up with a clever way to protest their financial collapse and the impending bailout by the EU/IMF. Of course, .
Boxer shorts and g-strings sporting the slogan: "I'd rather be screwed by the IMF" might be the top stocking filler this Christmas in Ireland as anger over a financial bailout and frustration with the government mounts. Ireland's politicians conceded on Sunday that they would need an EU/IMF bailout after weeks of public denial, prompting a small local company to launch a new clothing and underwear range.

"It's a bit of a dig at our leaders that have led us into this mess," said Tim Kelly, co-founder of the Cork-based website Puckout.com, whose products include other logos such as "The IMF took me coat" and "What the IMF."
Seriously, what happened to Ireland? It's truly become the world's outhouse.
Topics: Coolness! | 11 Comments »