By Wyatt Earp | October 27, 2010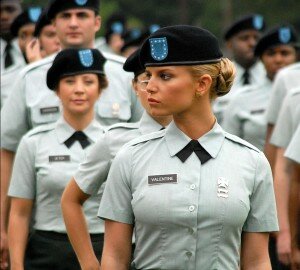 Army fatigues aren't festive enough for Jessica Simpson's holiday special?
4Troops, a musical quartet made up of four former army soldiers, told "Fox and Friends" that they were set to perform "I'll Be Home for Christmas" with Simpson on an October 14 taping before they were told that their song performance had been cut. Lauren Auslander, a spokeswoman for Simpson, told Fox via statement that the "song was cut due to time. Jessica was not even aware. She is wholeheartedly devoted to the troops … "

Auslander went on to say blame 4Troops' wardrobe of choice, green fatigues, was not what producers wanted for the show, a stipulation of which 4Troops says they were never informed.
Simpson is still banned after she called Michelle Obama an "incredible woman," but this story irks me, especially since the bimbo has been very pro-military in the past. Someone frakked up, and since it's Jessica's special, she has to take the blame.
Topics: Babes, The Troops | 15 Comments »