By Wyatt Earp | October 21, 2010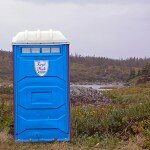 The United States Marines are composed of a few good men. This weekend, libtard attendees to Jon Stewart and Stephen Colbert's Washington, D.C. rallies will be looking for a few good port-a-potties.
Why? Because the Marines commandeered about 800 of them for the Marine Corps Marathon, which takes place the day after the rallies. Semper Fi!
Comedy Central organizers are having a hard time finding port-o-potties for their rallies to take place in a week and a half, after the Marine Corps Marathon planners snatched up about 800 of them for the same weekend.

The organizers of Jon Stewart's Rally to Restore Sanity and Stephen Colbert's March to Keep Fear Alive, both to take place Saturday, Oct. 30, have asked the marathon staff to share the portable toilets with their 65,000 expected to attendees.

But the Marines aren't budging — they plan to lock the toilets until the morning of their race the day after, they tell the New York Times. (H/T – Smite)
Good for them. Why would the share the toilets with a bunch of rally attendees that probably hate them and their mission?
Topics: Evil = Funny, The Troops | 19 Comments »