By Wyatt Earp | June 10, 2010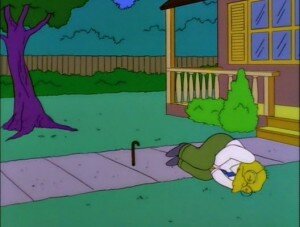 By the time you read this, I may already be in excruciating pain.
Let me tell you about the day I had yesterday. The missus took the Princess to the doctor's office for a checkup and a few shots. The two oldest were in school, so it was just Kevin and I at the Earp Ranch. We were watching Mickey Mouse Clubhouse. I was lying on my back on the couch, and he was standing in front of the television.
After a while, he came over to sit. He usually sits on my stomach while I lie on the couch. Not the most comfortable position for me, but it's great for him. He climbs up on the couch and I hold out my arms to him. "Come here, buddy," I said, and he took a step toward me.
And then it happened.
Kevin looked at me, lifted up his leg, and literally stomped on me. Well, to be more specific, he stomped on my testicles. With force.
I screamed so loud I thought I would shatter the windows. I wanted to throw him off the couch, but thought better of it. I put him on the floor while muttering expletives. My eyes were watering, I was getting really nauseous, and it felt like I had been shot down there.
I couldn't get up, yet I couldn't stay lying down: I had to move. I rolled off the couch to see Kevin laughing at me. Nice. I knelt on the floor while I caught my breath. That took a few minutes, and I figured I was dying. Literally.
The rest of the day was a blur of nausea and inexplicable pain. I had been hit in the groin before: what guy hasn't? I took a few knees there from the kids, a football, and one time, a lacrosse ball. Nothing felt like this. Even my vasectomy felt pleasant by comparison.
I am writing this post at midnight: 15 hours after the incident. I still feel sick, I am still having trouble walking normally, and I still feel like I was shot in the nuts. (Although I did feel well enough to go see Iron Man 2: It was awesome.) I would post some babe pics today, but I don't think my area can take it. The missus said if it is still bad today, I should see the doctor. We'll see.
In the interim, I can't wait for Kevin to be old enough for me to stomp him back. Kidding, kidding!
Topics: All About Wyatt, The Boys | 24 Comments »