By Wyatt Earp | March 23, 2010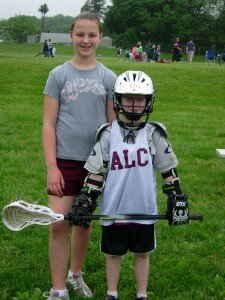 Today is going to be a very good day. It is Kyle's first day of lacrosse practice at Abington Lacrosse Club. This will be his third year playing the greatest game in the world, and his second year at ALC. We signed Kyle up at Abington because my niece Kaitlin (pictured with Kyle at left) plays there, and because it is the best youth program in the area. They have fun, but they also don't mess around when it comes to instruction.
For example, tonight starts a three-day "Boot Camp," where the coaches – I am an assistant there this year, while I am also coaching at North Catholic – evaluate the kids and place them into groups according to ability. Suffice to say, there will be a lot of running. No worries here, because Kyle is in soccer shape. On top of that, practices for the 9-10-year old league is Tuesday and Thursday nights from 6pm to 7:30pm. Saturdays are game days.
So, Kyle's current sports schedule goes like this:
Tuesday, 6-7:30 – Lacrosse
Wednesday, 6-7:30 – Soccer
Thursday, 6-7:30 – Lacrosse
Saturday – Game Day – Lacrosse
Sunday – Game Day – Soccer
Monday and Friday are days of rest. He should be able to handle the work load – he certainly wants to handle it – but he knows that if his schoolwork suffers, we'll yank him right off the field. This year, he will be playing with Billy, a friend of his from the soccer team. It should be a blast.
Here's Kyle last year during the hardest shot competition:
It's no secret that I love the game of lacrosse. It is my favorite sport – hockey is a close second. The fact that my son wants to play the game I love makes me so proud. He loves to play and it is a minor distraction from soccer. The wife and I think he needs to play other sports so he doesn't get burned out. Besides, when he gets to high school, he can play all year round and stay in good physical shape.
I'll let you know how Day 1 of Boot Camp goes.
UPDATE: Damned rain canceled tonight's practice. Kyle goes tomorrow night with the missus, since I am working.
Topics: Lacrosse, The Boys | 8 Comments »