By Wyatt Earp | February 25, 2010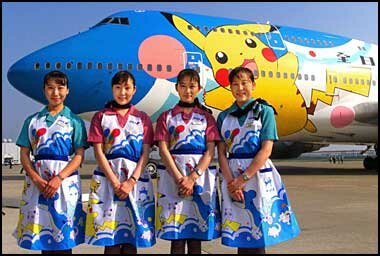 Maybe they should change the airline name to
TOKYO – Women flying Japan's All Nippon Airways will have a toilet all to themselves from next month, with the airline designating one restroom on most international routes as female-only.

An airline official told Kyodo news agency that ANA decided to designate women-only lavatories based on a 2007 online survey in which 90 percent of the women polled said they found the idea attractive.

The official also said women do not like using shared toilets as men sometimes leave the seat up. She said demand for women-only toilets was especially high among passengers taking long flights.
That wouldn't be an issue for me because I sit when I tinkle.
As odd as this story is, this last paragraph was the one that struck me.
Toilet etiquette appears to be an important part of ANA's policy — the airline had previously asked passengers to use the lavatories before they board flights so as to reduce the overall weight of the plane, which would ultimately be better for the environment as it would mean less fuel usage.
I guess they assume that every passenger has a big, meaty, ten-pound dump in them before they board the plane? Don't laugh, some of those tiny Japanese women are made up of about 55% poo.
Topics: Snarkasm | 10 Comments »