By Wyatt Earp | January 29, 2010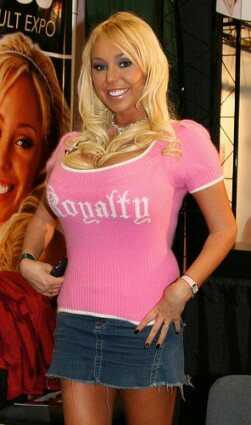 What's a Wingette, you ask? It's a broad who serves as "entertainment" during the annual Wing Bowl in Philadelphia. For those of you outside the area, the Wing Bowl is a chicken wing eating contest hosted by local sports-talk idiot Angelo Cataldi. White trash morons compete in the contest, while the slobs parade around showing off their pink parts – or close to it. It's not exactly a high-class event, but it's always a treat to see the photos afterward.
You would think that with so many slobs running around, WIP wouldn't mind one more. Apparently I was wrong. Captain America brought this story to my attention, and the irony is more delicious than any chicken wing:
Last week we told you how excited Mary Carey was to be debuting as a Wingette in the Wing Bowl on Feb. 5 at the Wachovia Center.

But Chris Weinerman, a co-owner of the World Famous Gold Club (1416 Chancellor), where Carey dances Feb. 3-6, says 610 WIP has since told him Carey cannot be a Wingette because she's been in hardcore films.
Now WIP gets a conscience? Not bloody likely. Thankfully, the people at The Philadelphia Daily News aren't buying this tripe.
Really? Because Katie Morgan, a hardcore actress who hosts HBO's "Sex Tips" and who is at Cheerleaders (Front & Oregon) next week, is slated to be a Wing-ette, as are Alektra Blue and Kaylani Lei, both hardcore stars, who will be there for Delilah's (100 Spring Garden).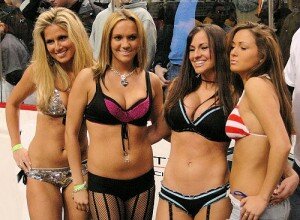 Like I said, it's fun for the whole family. /snark. Bring your dollar bills, guys, because even if your favorite glutton doesn't win, you can probably still see a "happy ending."
Weinerman says Corey Purcell of WIP's marketing department told him that those clubs had spent more money in advertising on the station than he did and that maybe Carey could serve as a Wingette if he spent more.
WIP denies this, of course, but I think they're full of crap. Follow the money, folks, and I'm sure it'll lead to the radio station's "Department of Shakedowns."
By the way, how funny is it that the owner of the strip club is named "Weinerman?"
Topics: Babes | 8 Comments »