By Wyatt Earp | November 29, 2009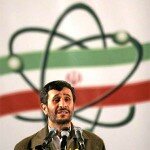 Every time you turn around there is another news story profiling Iran's controversial nuclear program. Iran claims that the program is for strictly peaceful purposes. The sane world believes that it is working toward a nuclear arsenal. Eventually, Iran is going to dance with another country, and it is not going to be pretty.
This conundrum is the subject of my Family Security Matters article. Here's a sample:
Good day, imperialist dogs. My name is Brigadier General Ahmad Mighani of the Iranian Revolutionary Guards and I am here to deliver a message of doom to the West. Our exalted President Mahmoud Ahmadinejad would have brought this message himself, but since today is his weekly back waxing, that duty falls to me. Between you and me, the president is a very hairy man – his nickname is Chewbacca, but I digress. For far too long, the peaceful Islamic Republic of Iran has been subjugated to scorn, ridicule, and threats from the United States and its allies. The Zionists, specifically, have threatened our peaceful nuclear program and they have forced us to prepare for their rumored attack:

Iran's armed forces launched large-scale air defense war games on Sunday to show off the country's deterrence capabilities in the face of pressure from the West over its nuclear program. The display of military muscle comes at a time of rising tension between Iran and six major powers, which fear Tehran's nuclear program is aimed at producing nuclear weapons. Tehran denies this is the program's purpose.

Of course we deny that this is the program's purpose! Our nuclear program is a peaceful one, and is designed for peaceful purposes. We are currently working on a number of initiatives that will make Iran, and by extension the world, a much safer place.
You can read the rest of the (hopefully) funny by clicking HERE.
Topics: FSM | 7 Comments »