By Wyatt Earp | November 29, 2009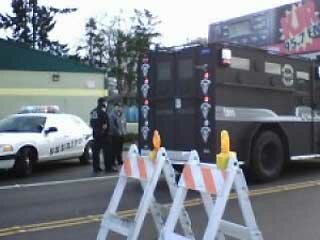 There's a murderous coward hiding somewhere in Washington state today. Hopefully, he will be hunted down like a dog and captured quickly.
SEATTLE — Four police officers were shot dead in a targeted ambush at a Washington state coffee house, a sheriff's official said Sunday. The attack occurred at Forza Coffee Co., east of McChord Air Force Base in Tacoma, Wash., about 35 miles south of Tacoma.

Officers are now searching for one male suspect who opened fire in the shop before fleeing on foot, q13Fox.com reported. Police have not yet ruled out an accomplice.

Pierce County Sheriff's spokesman Ed Troyer said the four officers killed — three men and a woman from the Lakewood Police Department — were in uniform and catching up on paperwork at the beginning of their shifts when they were attacked at 8:15 a.m.

"This was more of an execution. Walk in with the specific mindset to shoot police officers," Troyer said. (H/T – FOXNews)
Again, a coward. Slip in while the officers are busy, murder them, and run away like a puss-aah. Not to worry, though. This piece of detritus will be caught, and with any luck, will violently resist arrest.
If nothing else, it reinforces the fact that people in my profession have to be suspicious of almost every person, every day. There are a lot of toads out there that would like nothing better than to kill someone just because he or she wears a badge.
Please pray for the officers' families.
UPDATE: It is being reported that the suspected assassin was pardoned by Arkansas Governor Mike Huckabee in 2004. If that's true, Huckabee's political career is D-U-N, done! And rightly so.
GREAT UPDATE! – Shot. Dead. When you get to Hell, Clemmons, tell 'em the Seattle P.D. sent ya!
Topics: The Job | 42 Comments »