By Wyatt Earp | October 17, 2009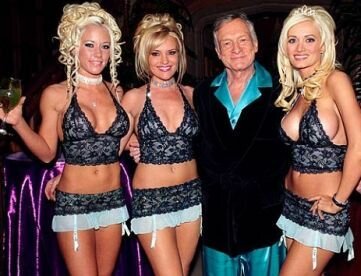 Say what you want about Hugh Hefner, but you have to give the man credit for this. He is holding his Halloween party at the Playboy Mansion and letting the Wounded Warrior Project be one of the beneficiaries.
"Hef was kind enough to let the Wounded Warrior Project be a beneficiary on Halloween. Proceeds will help severely wounded veterans that have recently served in Afghanistan and Iraq," Executive Director of the Halloween 09 bash Jose Dominguez told Pop Tarts. (General admission tickets start at $1,000 and go up to $15,000 for VIPs.) "Halloween is the most sought-after night at the Mansion so it was a good opportunity to support our veterans and enjoy a great party at the same time."

We're also told over 40 wounded soldiers will also attend the scary soiree. (H/T – JammieWearingFool)
Sure, Hef is a dirty old man, but he is a dirty old man who cares about our troops. That's good enough for me.
Topics: Babes, The Troops | 5 Comments »