By Wyatt Earp | October 28, 2009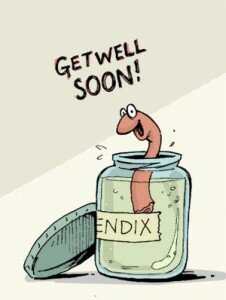 I lost some weight exactly one year ago today. Okay, it wasn't much, but on October 28, 2008, I had my appendix removed. I figured it would be fun to stroll down Surgical memory Lane a few weeks before I have the Mohs surgery for my skin cancer. That's scheduled for November 25th, the day before Thanksgiving.
I like to schedule all of my surgical procedures around the holidays. It makes the events seem more festive.
Strangely enough, last year's emergency appendectomy was during the Phillies' championship run. That's another reason why I would like to see them lose: I am always sick when they get to the World Series.

Click here to read last year's post-op play-by-play.
Oh, and Go Yankees!
Topics: All About Wyatt | 13 Comments »