By Wyatt Earp | September 1, 2009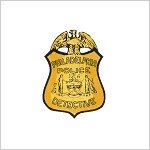 I hate my job.
Okay, that's not entirely accurate – actually, it is completely inaccurate – but I do hate some of the people I work with. A big-city police department usually has more than its fair share of jackasses within its ranks, and my detective division is no exception. None of these jackasses is worse than Ig'nant Girl.
You may remember Ig'nant Girl from this post. She is truly a piece of work. Well, she's a piece of something, anyway.
Our captain recently put out an order that certain units in the division would handle certain jobs. This news was a cause of dread for Ig'nant Girl, who has spent the better part of 20 years running – not walking – away from work. Most people in her position would have been thrown onto the dung heap years ago, but Ig'nant Girl is a member of "the protected class," and is virtually untouchable.
So, last night an arrest came in while I was at the front desk. The arrest would go to Ig'nant Grils' unit, and I assigned it to her. The arresting officer, upon seeing who his assigned detective would be, rolled his eyes and said, "Her? Really?" I apologized, but hey – rules are rules. The officer sheepishly dragged himself to Ig'nant Girl's office, and moments later, the girl came to my desk.
Ig'nant Girl: "Did you just give me an arrest?"
Me: "Yes."
Ig'nant Girl: "Didn't anyone out here want it?"
Me: "No. Per the captain, you get these arrests. Didn't you see the memo?"
Ig'nant Girl: "Pfft." (She turned and snottily walked away.)
Now, if it had ended there, this would be a funny story about an uppity beyotch. Unfortunately for me and my blood pressure, Ig'nant Girl would return about two hours later, still bent that I dared to give her an arrest.
Ig'nant Girl needed another report for her drama, and she needed a control number for it. Thus, she needed my services. She walked up, and immediately engaged me with the following rant:
Ig'nant Girl: "Did I give you the impression that I didn't want that arrest?"
Me: "No. I just figured you didn't read the captain's memo."
Ig'nant Girl: Ya know, you all are too sensitive out here. You all are a bunch of babies."
Me: "Yeah, okay."
Ig'nant Girl: "Just give me my control number!"
Now it was here that I had a decision to make. I could engage this imbecile in a shouting match in front of the supervisor, or I could ignore this uppity beyotch and deal with the brain aneurysm later. I chose the latter:
Me: (Shoving the report in her face.) "Here's your control number."
Puzzled at my lack of interest in her shenanigans, she turned and stormed off.
While I was robbed of the extreme pleasure of calling this piece of garbage a racist and a toad, I did turn that frown upside down by assigning this "woman" a truckload of jobs for the rest of the evening. By the time you read this, I will be back at work, and giggling every time a job is assigned to this truly ig'nant girl.
Topics: True Detective Stories | 9 Comments »