By Wyatt Earp | January 2, 2010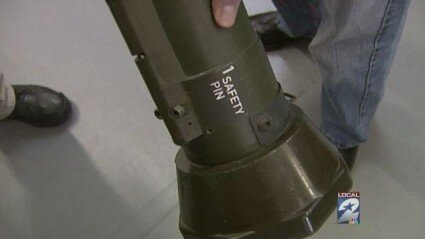 Rob in Katy sent me this story, and after reading it three times, I still have a lot of questions.
HOUSTON — A woman called police on Monday and said a man was forcing his way into her apartment in the 5300 block of Elm Street.

When officers went inside, they found something that made them concerned enough to call the bomb squad. They found an AT-4 shoulder-mounted rocket launcher. It can shoot a missile nearly 1,000 feet through buildings and tanks.

"It gives infantrymen the advantage with an ultra-light weapon that can stop vehicles, armored vehicles as well as main battle tanks and fortifications," said Oscar Saldivar of Top Brass Military and Tactical on the North Freeway.
And it is just perfect for your home defense needs. Especially if you need to defend your home
The woman did tell police that the rocket launcher belonged to Nabilaye I. Yansane, someone whom she allowed to store items at her apartment.
Fabulous. The rocket launcher belonged to man whose name is "insane."
According to court documents, officers also found Jihadist writings that allegedly belonged to Yansane.

Yansane was charged with criminal trespassing and pleaded guilty. He was sentenced to three days in jail, which he has already served. No charges related to the rocket launcher or writings were filed.

Prosecutors said there are no state charges for having the unarmed launcher or possessing Jihadist writings, unless they contain some type of threat.
Rocket launcher. Jihadist writings. Yeah, nothing to see here, right?
The former director of Houston's FBI office said rocket launchers can be dangerous if they're in the wrong hands.
THANK YOU, CAPTAIN OBVIOUS!!!
Houston police said they did a thorough investigation and did not find any ties to terrorists or a terrorist network.
Whew! That makes me feel better. I was getting a little worried, but if the Houston P.D. says a Muslim who gets his kicks penning jihadist writings and is in possession of a rocket launcher has no terrorist ties, that's good enough for me.
Idiots.
Topics: Gun Pr0n | 17 Comments »