By Wyatt Earp | September 25, 2009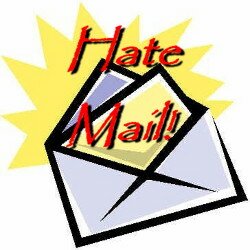 Okay, this hate mail isn't exactly directed toward me, but it is directed toward a post I did about Christopher Columbus.
The comment is from someone named Aishah Bowron. And to be completely honest, I don't know if that's supposed to be a male or a female. Either way, this person is not exactly the president of the Christopher Columbus Fan Club.
Enjoy!
Christopher Columbus was the John Wayne Gacy and Jeffrey Dahmer of the 1400s. He was a very wicked man and an apprentice of the Devil. He was the world's first serial killer and a genocidal mass murderer. He enslaved, killed and butchered millions of Indians. He does not deserve a holiday in his honor and Columbus Day should be abolished.
Now while Christopher Columbus was not a saint, comparing him to Jeffrey Dahmer and John Wayne Gacy is going a tad overboard. "Overboard." Ya get it? Besides, Ol' Chris never dressed up like a clown for children's parties.
And as usual, Aishah found this article a full FIVE MONTHS after it was posted. Way to stay timely, Aishah!
Topics: Hate Mail | 8 Comments »