By Wyatt Earp | July 31, 2009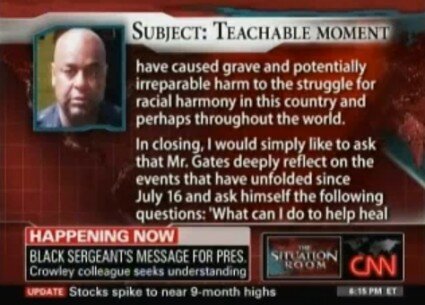 Hopefully, this will be the last time we have to talk about that racist Henry Louis Gates and President Obama's idiotic comments about his friend's arrest. It's enough of this nonsense. but this is a story that has to be told. Allahpundit has the details:
Initially I thought Crowley was a bit of a chump to join in The One's photo op after being smeared by him. But now I think it was all worth it:

A black sergeant who was at the home of Harvard scholar Henry Louis Gates Jr. when he was arrested says he's been maligned as an "Uncle Tom" for supporting the actions of the white arresting officer.

Cambridge Sgt. Leon Lashley gave a letter to Sgt. James Crowley to give to President Barack Obama during their so-called beer summit with Gates on Thursday night at the White House.

In the letter, which was also sent to CNN, Lashley says Gates "may have caused grave and potentially irreparable harm to the struggle for racial harmony." (H/T – Hot Air)
Sergeant Lashley is absolutely correct here. As is sometimes the case in today's p.c. America, the person who cries racism the loudest is usually found out to be either a liar or a racist himself. Gates may be an esteemed professor in Harvard yard, but in the real world, he is no better than any other race baiter. I am glad that Sergeant Lashley realizes that.
As for Sergeant Crowley, I think it is important to note that he (as opposed to Gates) took the high ground during all of this. he could have easily told Obama to shove his "Beer Summit," but he didn't. And that, dear readers, is what makes Crowley (and Lashley) a true professional.
Gates? Eh, not so much.
Topics: The Job | 13 Comments »