By Wyatt Earp | June 1, 2009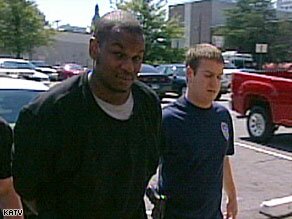 Good, now let's get on with his execution.
An Arkansas man was arrested Monday in connection with a shooting at a Little Rock military recruiting center that killed one soldier and wounded another, authorities said.

Abdulhakim Mujahid Muhammad — a 24-year-old Little Rock resident formerly known as Carlos Bledsoe — faces a first-degree murder charge and 15 counts of engaging in a terrorist act, Little Rock Police Chief Stuart Thomas said. The terrorist counts stem from the shots fired at an occupied building.

The soldier who was killed was identified as Pvt. William Long, 24, of Conway, and the wounded soldier is Pvt. Quinton Ezeagwula, 18, of Jacksonville, Thomas said.

Ezeagwula is in stable condition and expected to recover, the police chief said.

Although military officials initially believed that the shooting was a random act, Thomas said police think the shooter acted alone "with the specific purpose of targeting military personnel."

"I'm relieved there's a suspect in custody," said Capt. Matthew Feehan, commander of the center.

Thomas said police recovered three guns from Muhammad's black Ford SUV: an SKS semi-automatic rifle, a .22-caliber rifle and a pistol. (H/T – CNN)
Look at the smirk on this animal's face in the photo above. I would say remorse is not one his his strong points. If there is any justice, he will never again see the light of day.
Editor's Note: Sorry for the lack of posts today, but I spent the last 12 hours battling a high fever and alternating chills/sweats. Personally, I am amazed I had the energy to post this.
Topics: The Troops | 13 Comments »