By Wyatt Earp | April 16, 2009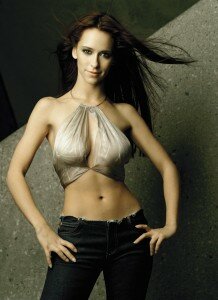 Sure she does. I'll bet she eats ice cream all the time and thinks she's not all that attractive, too. Personally, I doubt she's trolling blogs looking for her newest love interest.
The 'Ghost Whisperer' is whispering secrets to Maxim again.

Jennifer Love Hewitt becomes one of the few stars to grace the magazine's cover three times with the May 2009 issue, on stands April 21. And she's fine with that.

"It's nice to have the Maxims of the world out there, because you can look at them when you're 80 and be like, 'See? No, really, I was cute, I promise!'" she says.
Yeah, she'll get no argument from me. But then again, I'm a pig.
Hewitt, who's been dating the laugh riot Jamie Kennedy for the past few months, tells Maxim the quickest way to her heart is humor. "The two biggest things are being trustworthy and funny," she explains. "Humor doesn't fade. If you're a funny person, you will always be a funny person. You're not just going to wake up one day and be like, 'I'm not funny anymore.'"

"I'm all about geeks," she continues. "They don't have to be the person in the room with the coolest shirt." (H/T – FOXNews)
I'm in! Giggity, giggity, giggity, goo!

Topics: Babes | 4 Comments »