By Wyatt Earp | November 29, 2008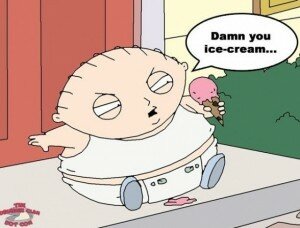 I'm a fat frak.
I told myself I wasn't going to do a weigh-in this week because of Thanksgiving, but that would be a cop out. If I had any real self-control, I would have ignored my mother-in-law's delicious, delicious food. As it stands, I am a weak, weak man. I pigged out more than I should have and even allowed myself two cans of Mountain Dew. The sweet, sweet goodness was fabulous, especially it's been so long since I had any drink that contained sugar.
So, I was pretty pissed today when I stepped on the scale. It read 195 pounds. Now, I know that is only a one pound gain from last week, but this is the first time I have had a gain all year. I'm a damned failure, and if it takes me getting an eating disorder I will lose the weight I've amassed.
To be honest, 195 isn't that bad in the grand scheme of things. I'm still down 41 pounds since January, but I still feel like a fat sack of crap. I'm not satisfied with myself, and probably won't be until I get to the 180s. Walking is very difficult, since my endurance isn't back yet, but I'm trying my best under the circumstances. Hopefully, next week will be better.
UPDATE: Sssteve is back, and he's lost 14 pounds!
Topics: Weight Loss | 14 Comments »