By Wyatt Earp | October 30, 2008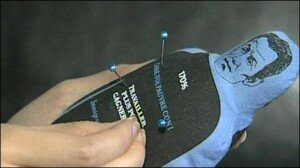 How French.
French President Sarkozy's likeness has been applied to a voodoo doll. True to his French nature, he's whining like a little girl whose mommy won't buy her candy on the way out of the store. Sarkozy, instead of stomping his feet and going into a tantrum, has tried to sue to stop the sale of the doll. The key word? Tried. The judge told him to get over it.
Dismissing the case, the Paris judge said the doll was "within the authorised limits of free expression and the right to humour".

Mr Sarkozy's lawyer said the president would appeal against the decision.

(H/T: BBC)
Now, I've seen others; in fact, I have a Hillary voodoo doll. I haven't heard her complain about it. Guess that proves that even American women have more balls and fortitude than French men.
What?
(Posted by RT.)
Topics: Uncategorized | 2 Comments »