By Wyatt Earp | July 6, 2009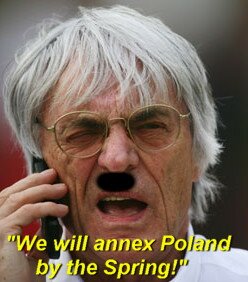 Get this: The head of Formula One racing apparently thinks Hitler, Saddam Hussein, and all sorts of devilish dictators were just chock full of awesomeness. Sure, they had their faults – like that whole "Jews in an oven" and "live, nude rape rooms" thing – but hey, they got things done!
I guess you can't make an administrative omelet without killing a few chickens, right? This man is either suffering from the onset of Alzheimer's Syndrome, or he is just a jackass, plain and simple. I am leaning toward the latter.
A story like this makes me thankful that I am a NASCAR fan.
Bernie Ecclestone, the man who controls Formula One auto racing, said Friday that he preferred totalitarian regimes to democracies and praised Adolf Hitler for his ability to "get things done."

In an outspoken interview with The Times of London, the 78-year-old British billionaire chastised contemporary politicians for their weaknesses and extolled the virtues of strong leadership.

Ecclestone said: "In a lot of ways, terrible to say this I suppose, but apart from the fact that Hitler got taken away and persuaded to do things that I have no idea whether he wanted to do or not, he was in the way that he could command a lot of people, able to get things done.
Ecclestone had no idea if Hitler wanted to exterminate the Jews or not? Is he frakkin' kidding??
"In the end he got lost, so he wasn't a very good dictator because either he had all these things and knew what was going on and insisted, or he just went along with it … so either way he wasn't a dictator." He also criticized democracy, claiming that "it hasn't done a lot of good for many countries — including this one [Britain]."

Instead, Ecclestone endorsed the concept of a government based on tyranny. (H/T – FOXNews)
Don't worry Mr. Ecclestone. If Britain stays the course, you and your fellow citizens will be ruled by Islamic Sharia Law in a few years. Let us across the pond know how that works for ya.
Moron.
Topics: WTF? | 9 Comments »