By Wyatt Earp | October 5, 2011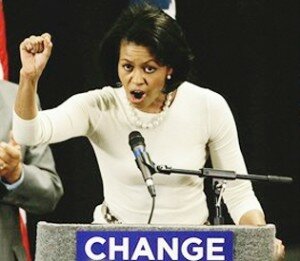 Last June, Michelle Obama loaded up the family car – in this case a modified military plane – and took a small vacation . . . to Africa.
The vacation was a mix between business and pleasure, and as always, Mooch-elle spared no expense.
And really, why should she? The trip was paid by the taxpayers.
How much does it cost taxpayers to fly First Lady Michelle Obama, her two daughters and her mother, a niece and a nephew, a hairstylist and makeup artists to South Africa and Botswana to give a few speeches, meet Nelson Mandela, and enjoy a safari on a private game preserve?

Nearly half a million dollars, according to documents obtained by Judicial Watch via the Freedom of Information Act.

Judicial Watch said the U.S. Air Force provided a C-32 – a Boeing 757 modified by the military for the purpose of flying big-wigs around the world – to fly the First Lady and her entourage to and from Africa, at a cost of $424,142. Another $928.44 was listed as the cost of providing 192 meals for the 21 people who made the trip

The Obama daughters were listed on the manifest as "senior staff."
Like that piece of information wouldn't get out? Wow, talk about gall.
I wonder what the Occupy Wall Street toads will say? Eh, probably nothing.
Topics: Politics | 11 Comments »