By Wyatt Earp | February 20, 2011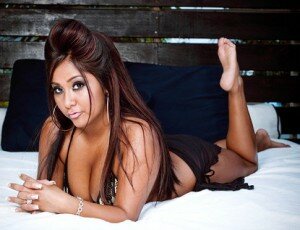 Damn. I guess it's only her career that died.
Snooki's Facebook page is flooded with messages from people who think she just died from a massive drug overdose; problem is, it's not true.

Some people with a morbid sense of humor flooded the Internet this weekend with false reports that the "Jersey Shore" star kicked the bucket. But according to a rep — who spoke to Snooki this morning — she's alive and probably drinking somewhere right now.
In fairness, someone riddled with that many STD's has probably built up a tolerance to normal, everyday maladies.
Topics: Evil = Funny | 12 Comments »