By Wyatt Earp | February 20, 2011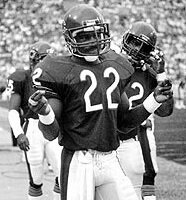 Former Chicago Bears player Dave Duerson committed suicide this week, after shooting himself in the chest.
Duerson, a pretty good player in his time, was only 50 years old.
He chose not to shoot himself in the head, because he had a plan for when he passed away. Believe it or not, Duerson wanted his brain donated to science:
Former Chicago Bears safety Dave Duerson died of a self-inflicted gunshot wound to the chest, a source with knowledge of the situation told the Tribune. His death has been ruled a suicide, but the Miami-Dade police department has yet to make the information public.

Chris Nowinski, co-director of the Center for the Study of Traumatic Encephalopathy at Boston University School of Medicine, said Duerson's family contacted him to examine Duerson's brain for abnormalities related to chronic traumatic encephalopathy (CTE), a degenerative brain disease found in those who have a history of repetitive brain trauma, including concussions.

"At some point that he wanted his brain to be studied so people could learn more about the effect of brain trauma, so kids could play the game more safely in the future," Nowinski said.
Screw that! When I go, I want my brain to be kept alive forever. I'm putting Mrs. Crankipants on that, post haste.
Topics: WTF? | 9 Comments »