By Wyatt Earp | November 10, 2010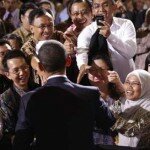 So, after giving a speech in Indonesia today, President Obama criticized proposed Israeli construction in East Jerusalem. How this subject came up is beyond me, but Indonesia – a country where Islam is the dominant religion – is hardly a hotbed of Israeli support.
My first instinct is to say that Obama is doing what he does best: pandering to his audience. But considering his words and actions, it's clear that .
President Barack Obama has criticized Israel construction plans in East Jerusalem, saying they're unhelpful to the pursuit of peace. The president said he was concerned Israel and Palestinian authorities were not making enough of an effort to advance peace negotiations.

Obama's caution came as the Israeli government moved ahead with plans to build nearly 1,300 apartments in that disputed part of the city.
So, the president is concerned that Israel and Palestinian authorities aren't making an effort, but he only decides to slam Israel? Shocka! I would have more respect for the man if he just came out and said he despises the Jews. Thankfully, Israeli Prime Minister Binyamin Netanyahu gave Obama a much-needed slap down.
Oh, on a completely unrelated note, Secretary of State Hillary Clinton announced the U.S. will be giving the Palestinian Authority $150 million.
Topics: Politics | 10 Comments »