By Wyatt Earp | November 20, 2010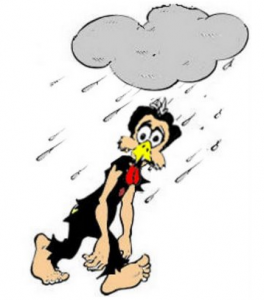 I have never been so happy to see a weekend in my entire life.
Everyone knows the tragedy my family has experienced with the passing of Cousin Barbara, and while nothing else compares to that, the tragedy was the topper to a very terrible week for me. A few people know what has been going on, and I told them I wasn't going to post about it – for fear of overshadowing the news about Barbara.
Then yesterday happened. I figured I was under a permanent rain cloud, and I had to write about it before the lightning strike.
Here's the itemized list:
* I went to the doctor's office about a lump on the back of my head. It has been causing headaches and occasional dizziness for a while, so I finally got it checked out. An ultrasound revealed nothing except "a solid mass." I had a CT scan last Friday to nail down the problem, but I won't know the results until Wednesday.
* We heard about Barb being rushed to the hospital on Tuesday.
* On Wednesday, our garbage disposal sprung a major leak, covering the cupboard and part of the kitchen floor in water. A few hours later, the hard drive to my laptop – a laptop that is only eleven months old – crashed. Dell had to send out a brand new drive.
* On Wednesday night, Barb passed away.
* On Thursday, we had to comfort Kyle, who was taking Barb's passing very hard. We tried to keep him busy as possible. I also heard some very bad personal news from a blog friend that I won't share here.
* Yesterday, I went ice skating with Kyle and Erik. Five minutes after stepping onto the ice, Erik skated toward me, couldn't stop, and hit me hard. I tried to protect him as we fell, and we both landed on my left wrist. Hard. I knew something was wrong, because I have broken my wrists before. This hurt, but I stayed for the entire skating session. Why? Because all parents know our needs come well after the kids'.
I came home and the missus told me to go to the hospital. I did, received some x-rays, and waited. The doc came out and said while he thought he was a tiny hairline fracture, it looked like I just suffered a bad sprain. I was in a lot of pain, but at least it wasn't broken. I am wrapped in a splint – I will be for days – but no cast.
And to add insult to injury, it was my left hand. I'm left-handed.
Suffice to say, typing is difficult. I'll try to post this weekend, but no promises. Until then, I'm gonna grab a few four-leaf clovers, horseshoes, and rabbit's feet.
Topics: All About Wyatt | 18 Comments »