By Wyatt Earp | October 31, 2010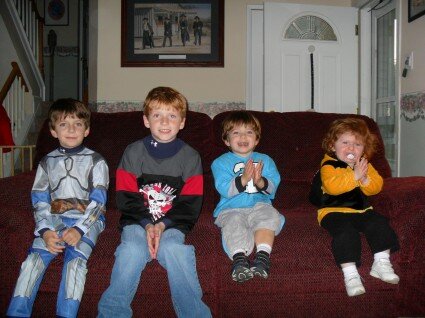 Tonight's the night I get more exercise than I do at my hockey games. You see, the older the kids get, the more streets they want to visit, and that means hours and hours of Trick or Treating with Dad. Luckily, the missus and I have a system. First, she takes the four kids to a few houses on the block – the people we're closest to, who want to see what Kevin and Julia are wearing. (As of now, Kevin will be a football player, and Julia will be a Bumblebee.) While they are walking, I am giving out treats at the Earp Ranch – and sneaking a few Kit Kats.
I have been lucky enough to be day work for every Halloween since the kids started going out. This year will be no different. The one difference this year is the costumes. For years, Kyle and Erik wore things that were mostly tame. Star Wars characters, sports themes, and the like. Erik is staying with Star Wars by wearing a Jango Fett costume. Kyle is making a change. This year, he will be a homicidal ice hockey goaltender, complete with bloody hockey mask, "Killers" hockey jersey, and a goalie stick/bloody axe combination. It's still somewhat kid-oriented, but we were apprehensive in letting him get it. At 9-years old, we let him make the final decision, but it was one of those things that made us say, "Our son is growing up."
I hoped they would stay young forever.
Post-Trick or Treating Update: Well, we hit the entire neighborhood with Captain America and his son. We had to stop back home midway to empty the treat buckets. Overall, the kids brought in a good haul. The only downside was that we got trick-or-treaters bused in again. Whole lot of Spanish speakers 'round these parts.
"No habla Ingles? Then no habla Snickers. Hit the road, jefe!"
Topics: The Boys | 16 Comments »