Crocodile Downs Airliner
By Wyatt Earp | October 24, 2010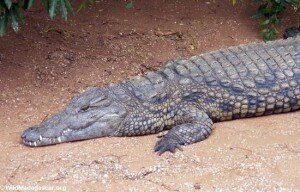 Now there is a headline I never thought I'd write. In the Congo, passengers smuggle more than drugs onto their flights. Some people smuggle vicious, deadly amphibians.
I am trying very hard to not make light of this situation, since 20 people were killed, but I have to tell you, it's very difficult.
A small airliner crashed into a house, killing a British pilot and 19 others after a crocodile smuggled into the aircraft in a sports bag escaped and started a panic.

The plane came down despite no apparent mechanical problems during an internal flight in the Democratic Republic of Congo. It has now emerged that the crash was caused by the concealed reptile escaping and causing a stampede in the cabin, throwing the aircraft off-balance. A lone survivor apparently relayed the bizarre tale to investigators.
Apparently, the alligator luggage set the croc off. Yeah, I'm going to Hell.
Topics: WTF? | 19 Comments »