By Wyatt Earp | October 26, 2010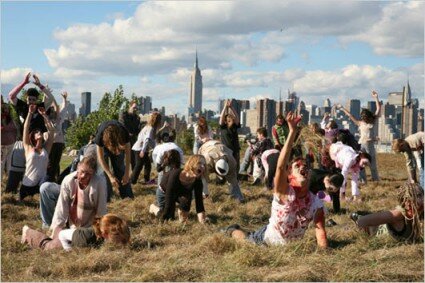 this morning, as the walking dead roamed the streets around MSG. Hmm, I thought the Rangers looked a little lifeless.
As if the morning commute weren't odd enough, intrepid New Yorkers trying to make their way to work had to battle past hordes of the walking dead. Two dozen zombies, their clothes spattered with fake blood, were staggering up and down the block Tuesday outside Madison Square Garden.

Some pedestrians looked startled or amused by the ghost-white actors with bruised-looking eyes. Some people ignored them entirely. Others whipped out their cell phone cameras. The stunt was part of a campaign promoting the Halloween premiere of the AMC television series "The Walking Dead."
I already have my TiVo set up for the zombie goodness! So does she.
Topics: Coolness! | 20 Comments »